Son Ha Group Signed The Strategic Cooperation Agreement With WATREC (FINLAND)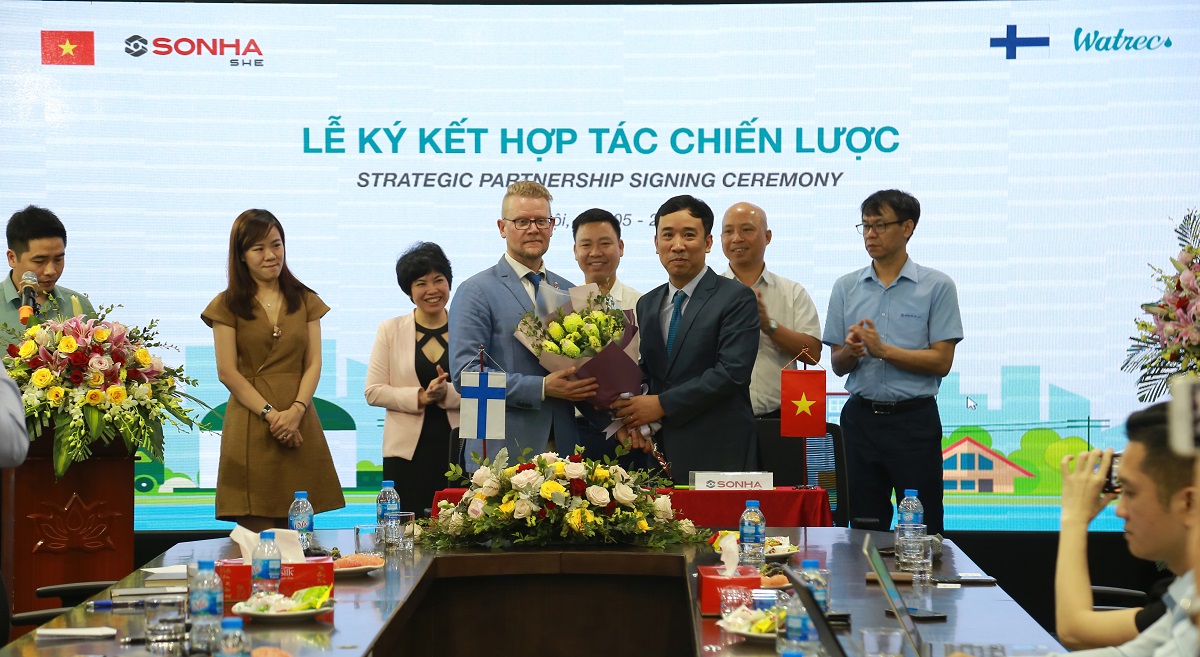 SHE and Watrec signed the strategic cooperation agreement
Attending the signing ceremony, there are representative of Watrec partner – Mr. Kimmo Tuppurainen – Co-founder, Business Director of Watrec; representative of Son Ha Group: Mr. Le Vinh Son – Chairman of Son Ha Group, Mr. Dam Quang Hung – Standing Deputy General Director of Son Ha Group, Mr. Hoang Manh Tan – SHE Director, and representatives of CST partner and the directors / deputy directors of member companies of Son Ha Group.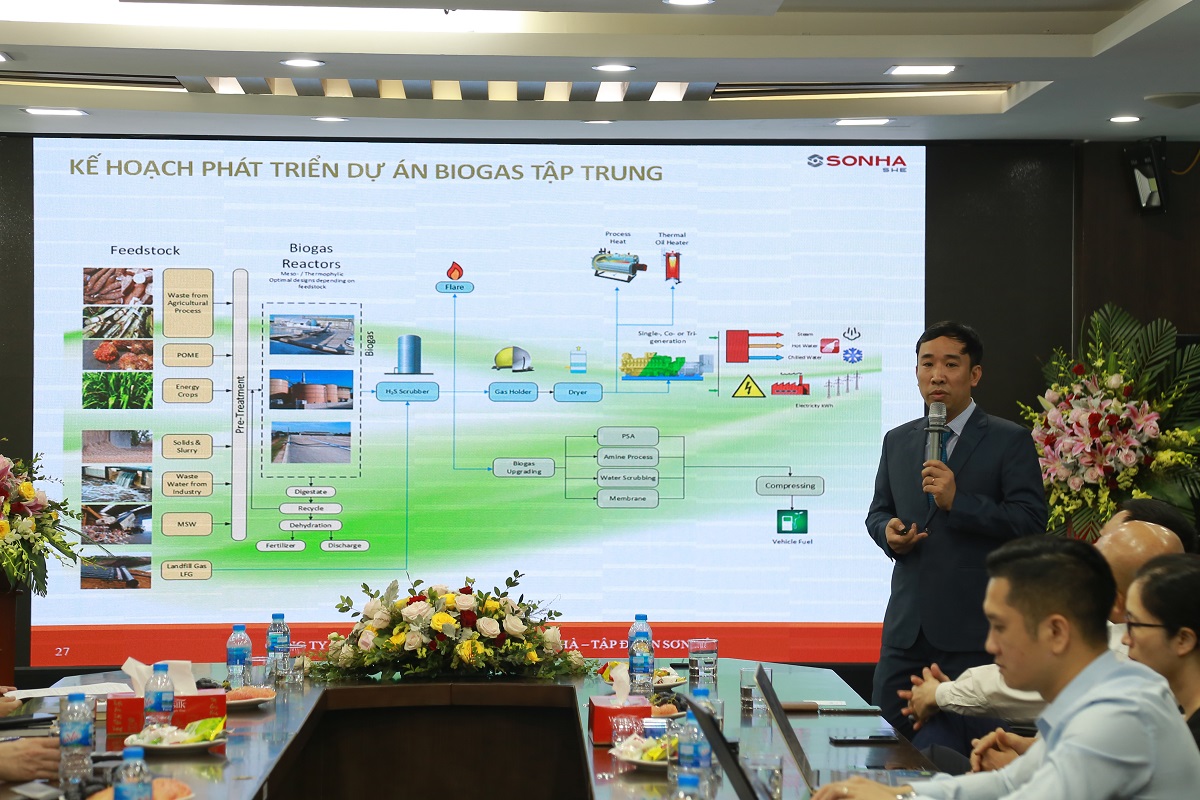 Mr. Hoang Manh Tan – SHE Director shared
Sharing the current situation of agricultural waste in Vietnam at the beginning of the meeting, Mr. Hoang Manh Tan said that this is a hot issue in recent years. It is estimated that up to 47 million tons of waste from the animal husbandry sector and about 13 million tons of domestic waste per year from rural areas, most of which have not been properly treated, lead to serious environmental pollution (statistics from Ministry of Natural Resources and Environment).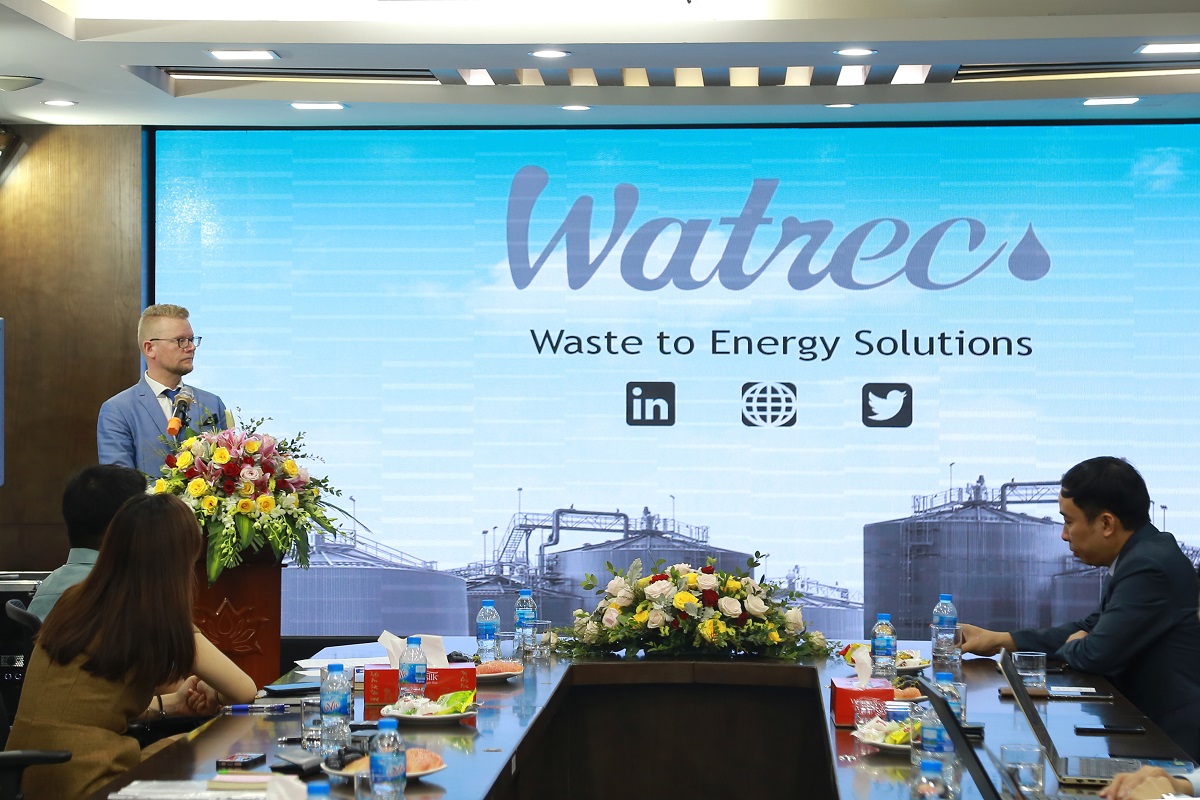 Mr. Kimmo Tuppurainen – Co-founder, Business Director of Watrec spoke at the signing ceremony
In theory, these organic-rich wastes are an endless source of renewable energy. However, in fact, Vietnam still lacks processing facilities with appropriate technology, really meeting the technical, economic and environmental criteria.
Therefore, the application of modern biogas technology to thoroughly handle organic waste and electricity generation for for households and businesses has an important meaning for sustainable economic and environmental development. Biogas production is an eco-friendly process, turning organic waste into energy and at the same time returning the natural circulation of nutrients such as nitrogen and potassium … This technology has been commonly applied in most European countries (Finland, Norway, Sweden, England, France, Germany, Belgium …) and many other countries such as Japan, USA, Canada …
With the desire to introduce the optimal organic waste treatment solutions with reasonable costs, SHE has signed a cooperation agreement with Watrec (Finland) – one of the pioneering companies in biogas technology. Accordingly, Watrec will support the application of this modern technology for small and medium-sized projects, to ensure sustainable economic and environmental results.
Mr. Le Vinh Son – Chairman of Son Ha Group Chairman congratulated the successful cooperation of SHE and Watrec
The cooperation agreement between SHE and Watrec is an important event, marking a good start for Son Ha to continue pioneering in the field of clean energy development, bringing advanced technologies to Vietnam. In the context that the available resources are gradually exhausted, leading to an increase in the price of a variety of input materials (petroleum, electricity …), the technology of turning organic waste into energy not only brings to a perfect, friendly environment solution for waste treatment in Vietnam, but also contributes to improving the quality of life of the people.