Son Ha Group inaugurates EVgo electric vehicle production plant
BẮC NINH — Sơn Hà Development Of Renewable Energy Joint Stock Company, a member of Sơn Hà Group, on the weekend inaugurated its EVgo electric vehicle production plant in the northern province of Bắc Ninh, Thuận Thành II Industrial Park.
The move is part of the firm's "greening" strategy of production and business to complete the group's ecosystem.
Speaking at the ceremony, Đinh Đức Tuấn, the plant's director, said the plant aimed to bring solutions to replace motorbikes to serve Vietnamese consumers, promote the green transport revolution and respond to the environmental protection movement in Việt Nam.
In the next 5-10 years, Sơn Hà hopes to become one of the three largest electric vehicle manufacturers, assemblers and suppliers in Việt Nam, accounting for 10-20 per cent of the domestic two-wheeler market share (about 300,000 – 600,000 vehicles a year). It also aims to make the product a well-known and popular Vietnamese brand.
In the first phase, the plant will have a capacity of 20,000-30,000 vehicles a year, focusing on building the domestic electric motorcycle business and service network. In the second phase, the factory will continue to research and work with foreign partners to produce electric cars for the domestic market and export.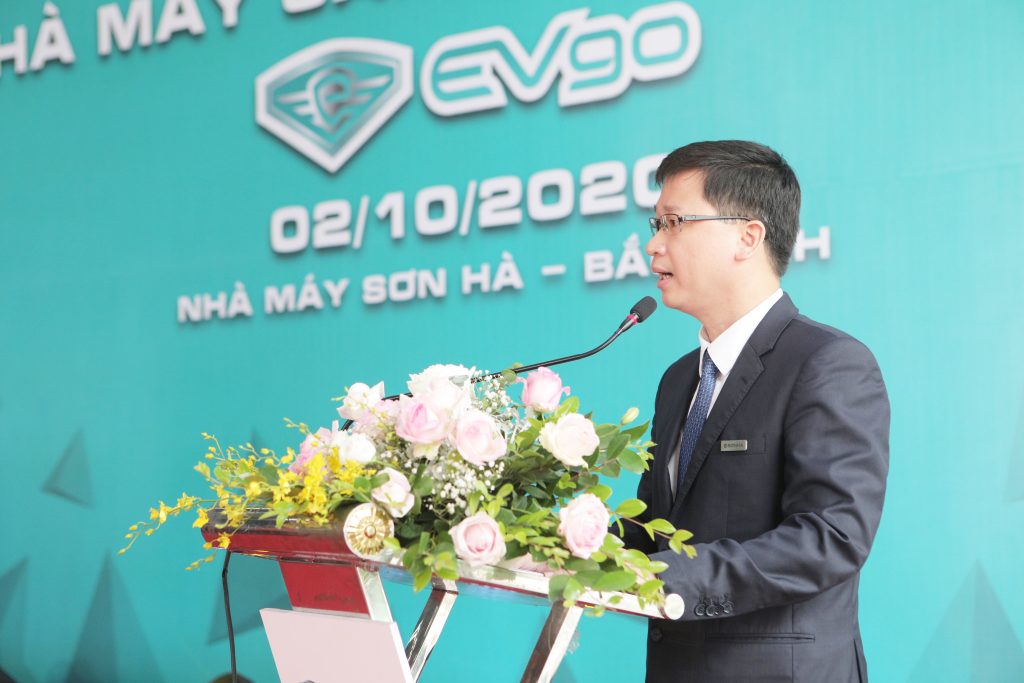 Đỗ Thành Tâm, Sơn Hà Group's deputy general director, said being the leader in the renewable energy sector and aiming to help build a green economy, they have paid attention to the investment, research and development of electric vehicles, which are considered a useful solution to the balance between economic benefits and environmental protection.
"EVgo is not only a smart, convenient and friendly vehicle, but also reasonably priced with a long-term customer care policy and a nationwide warranty network", he said.
Andre Maurice de Jong, director of Two-wheeled and Electric Scooter Industry in Southeast Asian region of Bosch Group (Germany), said the co-operation between Sơn Hà and Bosch would be an important step forward for both sides to introduce sustainable, efficient and environmentally friendly mobility solutions to the domestic market.
In August, Sơn Hà worked with Bosch – one of leading groups in the world to provide technology solutions and equipment for electric vehicles, to develop technology for EVgo electric motorcycle production, researched and produced by Sơn Hà.
The EVgo electric vehicle was introduced to the market in two versions, EVgo C (battery) and EVgo D (electric). — VNS
Source: vietnamnews.vn